Deconstructing Newsweek and the Gorilla Killings in Congo
By Georgianne Nienaber, with Keith Harmon Snow
August 1, 2007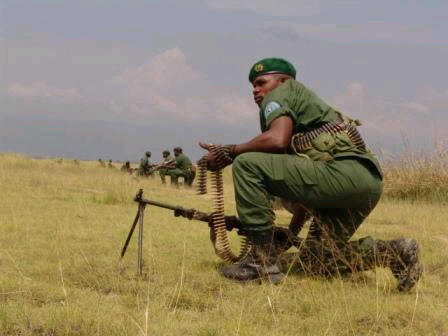 Well Armed Congo Rangers
The Newsweek cover feature, "Gorilla Warfare: Even after 10 years of war, rangers are stunned by the mysterious killings of great apes in Africa's oldest park," appeared on line on MSNBC.com July 29, 2007, with a dateline denoting its imminent appearance in the August 6 print issue. The story romantically describes rangers with "billowing green ponchos" and "AK-47's," not the Washington Post's previous fiction of rusty machetes. Newsweek is a part of the Washington Post Company.
As the accompanying photo clearly shows, the Congo Rangers are not ill-equipped. Their well-oiled weaponry and mercenary training begs the question why they cannot or will not protect the gorillas. The gorilla killings began when Wild Life Direct appeared on the scene early in 2007.
One of the rangers, Paulin Ngobobo, 43, is photographed backlit and quite elegantly dressed, as if for a Vanity Fair or GQ portrait. He is "a devout Christian" says Newsweek, seemingly grooming him for the next Conde Nast Traveler Environmental Award—given in 2005 to Central African hero Pierre Kakule of Dian Fossey Gorilla Fund fame in the Virungas—or the National Geographic Society/Buffet Award created by "philanthropist" Howard Buffet. The Newsweek portrait of debonair Congo ranger Paulin Ngobobo stands in sharp contradiction to the starving rangers described by the Post's Stephanie McCrummen a few days earlier.
The Newsweek article of July 29 also cites Wild Life Direct's Richard Leakey calling the gorilla killers "a corrupt mafia of charcoal merchants," while simultaneously playing the tired refrain accusing Hutu extremists responsible for Rwanda's genocide.
This is not journalism—it is more of a public relations fabrication serving as both a fundraiser and cheerleader for Wildlife Direct—and its backer and board member Walter Kansteiner. The Congo rangers trained by Wildlife Direct are mostly outsiders with no ties to the local communities around the park. In a place like Congo, this ethnic influx is tantamount to a foreign invasion.
Similarly, the framework of the Newsweek story shields the true reasons for poverty and suffering of Congolese soldiers. International mining in Congo is a scandal reaping hundreds of millions of dollars in profits monthly, and the problem of non-payment of soldiers "salaries" lies with those who make this possible: international business cartels, the World Bank, IMF, and the European Union. Foreign interests and their Congolese agents have expropriated local people's livelihoods and rights, and the Mai Mai militias are known for taking a nationalist stance against foreign interests and for Congolese people.
But, we interviewed one Congolese conservation expert with the Congolese Institute for the Conservation of Nature (ICCN) who attributed all responsibility for the massive failure of conservation and community development in Congo to institutionalized corruption in Western "conservation" organizations and high-level ICCN officials they have corrupted.
The massive ongoing propaganda front peddling the recent gorilla "executions" has fast-forwarded the privatization process, which today appears to be unfolding through increased military surveillance, boundary protection, mercenary operations, and the use and proliferation of surveillance devices and sensors—developed for military and intelligence applications—for anti-poaching and periphery defense.
The Washington Post and its sister publication, Newsweek, cover for such interests by ignoring the machinations behind the scenes and putting their spin on the "Congo Rangers" and "gorillas executed" stories coming out the Virungas National Park.
In the corner of the on-line Newsweek feature—below the picture of a dead silverback sprawled out on a stretcher—like KING KONG himself—carried by a team of very well dressed "conservationists"—is a little "READER'S VOTE" asking: "Would you be willing to pay higher taxes in order to protect endangered species?"
Check: ( ) "yes" ( x ) "no" or ( ) "not sure."
PRIVATIZATION OF AFRICAN PARKS
Wildlife Direct operates under the mantle of the Africa Conservation Fund (ACF), a tax-exempt (501-c-3) non-government organization registered with the US Internal Revenue Service. Beyond Richard Leakey, a survivor of an elephant attack whose family achieved fame unearthing anthropological and paleontological specimens in East Africa, there are some very prominent and notable people on the ACF board.
The late (2006) board member of ACF, Paul Van Vlissingen, worked for years to privatize all of Africa's national parks for tourism. The BBC reported in 2003 that Van Vlissingen's company "planned to take over a string of national parks throughout Africa," through a private firm, African Parks Management and Finance Company. At a press conference, Zambian Member of Parliament, Sakwiba Sikota, called for an investigation, saying the scheme "borders on theft and plunder of the resources of the people of Barotseland [Zambia/Angola] and should be thrown out."
ACF director Francois-Xavier de Donnea is a Belgian Minister of State, having held Defense and International Development portfolios. Belgium's plundering of Congo began with 10 million dead under Leopold's Congo Free State, proceeded through decades of colonial rule, and prospered greatly under the dictatorship of Col. Joseph Mobutu (1965-1997). Belgian interests in DRC today are very powerful and hidden but involved in diamonds, plantations, mining, timber and defense.
Most significant however is the involvement of Walter H. Kansteiner III, an ACF board member since their founding in 2004. Kansteiner has been a constant presence behind the scenes in Central Africa's wars since at least 1993. His background and experience are not in conservation: Kansteiner was a major force for privatization in the Clinton and Bush governments, and his work continues in this vein with think tanks and policy institutes.
Walter Kansteiner III has over 20 years' experience in African and emerging market business issues and has advised corporations on a wide range of mergers, acquisitions and privatizations throughout Africa in virtually every business sector from forestry and mining to aviation. Kansteiner advised the buy side on the $1.3 billion privatization of Telkom South Africa, to date the largest privatization in Africa.
Kansteiner was formerly Executive Vice President of a commodity trading and manufacturing company specializing in tropical commodities in the developing world: his family trades in coltan, or columbium-tantalite, the precious ore used for Sony Play Stations, cell phones, laptop computers and myriad state-of-the-art devices—developed under the exploding but secretive "nanotechnology" developments of the defense and intelligence sector—behind the bloodshed in eastern Congo.
The Great Lakes region is also seeing an assault by oil and gas companies affiliated with mercenary firms: this may be a partial impetus to "conserving" and "protecting" the Lake Albert basin and the Virungas. Heritage Oil and Gas, Tullow Oil and Hartmann Oil are exploiting oil reserves on both sides of the DRC border, while Lake Kivu is being targeted for major natural gas (methane) production by Rwanda. The region is one contiguous oil field—the Semliki basin—under the Great Lakes and north through Darfur to the Red Sea.
Among other State Department posts he held, Walter Kansteiner III was the Africa specialist on the Secretary of State's Policy Planning Staff under President Clinton, and he worked on the Department of Defense Strategic Minerals Task Force. The Clinton Administration was deeply involved in the conflicts in central Africa from 1993-2001.
Kansteiner is on the Board of Directors of the Corporate Council on Africa—the "who's who" of corporate exploitation in Africa. He is a director of the African Development Foundation, Sierra Rutile Mining, and Moto Gold Mines. Sierra Rutile has a long and sordid history of involvement with mercenaries and mining in war torn Sierra Leone; Moto Gold Mines is now operating in the killing fields of DRC's blood-drenched Orientale Province just north of the Virungas.
Kansteiner is also a director of the African Wildlife Foundation, a big non-government organization partnered with the gorilla "conservation" organizations Conservation International, World Wildlife Fund, Dian Fossey Gorilla Fund, Jane Goodall Institute and Fauna and Flora International.
PLUNDERING AFRICA: WALTER KANSTEINER & FRIENDS
An understanding of the decade of warfare and depopulation in Central Africa can be gained by examining the positions of power, corporate directorships and new corporations and alliances that have quietly emerged from the killing fields in the past several years.
While the mass media, policy institutes like the International Crises Group (ICG), human rights agencies like Human Rights Watch, and "humanitarian" organizations like the International Rescue Committee appear to offer some coverage of events in Central Africa, they barely scratch the surface. More often, they offer only limited critiques of events, interests or developments, without ever challenging any significant deeper interests, or holding them to account.
One of the key agents behind the machinery of change in Central Africa is Walter Kansteiner III.
In the 1980's Kansteiner was director of Economic Studies at the far-right Institute on Religion and Democracy. The IRD called itself "centrist" but was deeply hostile to social movements around the world, particularly in Africa, and it attacked mainstream Christian religious institutions.
In his 1990 book Kansteiner systematically attacked Nelson Mandela and the African National Congress (ANC), characterizing the ANC as a group of violent revolutionaries engaged in an "unjustified" and "Marxist" struggle against the government, without a mandate from the South African people.
Kansteiner was a member of the George H.W. Bush State Department's policy planning staff from May 1989 to June 1991, Director for African Affairs at the National Security Council, 1991-1993, and the Special Assistant to the President and Deputy Press Secretary for Foreign Affairs from April 1992-1993.
Kansteiner also served in the U.S. government as director of African Affairs on Clinton's National Security Council staff. He was President Clinton's personal representative to the G8 Africa Process.
Kansteiner was Assistant Secretary of State for African Affairs under George W. Bush from June 2001 until November 2003, advising on U.S. foreign policy in Africa.
Walter Kansteiner and Maurice Tempelsman—and Corporate Council on Africa members from Halliburton, Boeing, Cargill, Exxon-Mobil, Freeport McMoran and Oracle Corporation—were the architects of the Africa Growth and Opportunity Act (AGOA), America's NAFTA for Africa.
The AGOA destroys local markets, erects discriminatory trade barriers, undermines local economies to enrich elites and impoverish the masses—a.k.a. in the language of doublespeak, the AGOA promotes free trade.
As a founding principal of The Scowcroft Group, Kansteiner's ties to the intelligence and defense sector run still deeper. Brent Scowcroft is a former National Security Adviser to George H.W. Bush (1989-1993) and Gerald Ford (1975-1977), and National Security Council member under Henry Kissinger.
Kansteiner is also a Fellow at the Forum for International Policy, a think-tank whose Chairman of the Board of Trustees is Lawrence S. Eagleburger, a director of numerous corporations—including Halliburton—and the former Deputy Secretary of State (1989-1992) and then Secretary of State (1992-1993) under George H.W. Bush. Other FIP notables are deep intelligence insiders, including John Deutch and Brent Scowcroft, and Archers Daniels Midland director Dwayne Andreas.
The International Crises Group executive John Prendergast's role in manipulating world consciousness around war and genocide must be situated not in the "humanitarian" front that the ICG gives him, but in his role as National Security Council during the Clinton Administration, with Walter Kansteiner III. The ICG is silent about the proliferation of dubious and illegal mining by firms like Moto Gold Mines, and their "crises group" research papers never identify any of the significant players behind the scenes in Congo (or Darfur).
Walter Kansteiner III is also a Senior Associate of the Center for Strategic and International Studies (CSIS), which today counts among its members Alexander Haig, Brent Scowcroft, John Deutch, Donald Rumsfeld,, Henry Kissinger, and many other deep intelligence and defense insiders.
Many of the same players noted above are involved behind the scenes in Somalia, Chad, Ethiopia and Sudan—the "Save Darfur" interests and lobby behind "genocide" in Darfur—and profit from warfare and "humanitarian relief" while millions and millions of Africa's people suffer and die.
At this writing there are 1.2 million Acholi people suffering miserably in death camps in Northern Uganda subject to terrorism as policy orchestrated by Ugandan People's Defense Forces (UPDF) and Ugandan President Yoweri Museveni. One hundred fifty additional U.S. Special Operations forces were deployed in Uganda in March 2007, and Museveni has now instituted compulsory military training in support of the DOD's AFRICOM and the US/UPDF military campaigns in Sudan (Darfur), Chad, Congo, Uganda, Ethiopia and Somalia. Petroleum operations in western and northern Uganda are expanding: Bechtel subsidiary Nexant is one of the companies building the pipeline across Uganda to the US military port in Mombasa, Kenya. The genocide against the Acholi people in northern Uganda is in media whiteout.
The international logging sector in Congo is another scandal never illuminated with similar zeal by the Washington Post and Newsweek—who target Congolese charcoal as the problem. The Portuguese Trindade brothers—Jose Albano Maia Trindade and João Manuel Maia Trindade—are the owner-operators of four companies: SODIFOR, SOFORMA, FARABOLA and Compagnie Forestière et de Transformation. Their concessions total 5,959,817 hectares in four Congo provinces.
Logging operations of other Western companies—the American Blattner family, George Somja of Belgium, George Forrest, the German Danzer Corporation (2,421,871 hectares), and others—comprise an additional 26 million hectares, and the World Wildlife Fund rubber stamps their operations. The profits and the expropriation of Congolese land for the international logging sector swamp the $30 million a year charcoal industry run by and for Congolese people. While there has been much fanfare in the international media about "canceling" logging and "reexamining" mining contracts—rewriting the mining and logging codes—little substantive change has been made. The question of land belonging to the Congolese and their access to it must be seen in the light of the logging industry in DRC.
At one Blattner operation (SAFBOIS, Isangi, DRC), the WWF field station is located within the deep forest compound of the company. The BBC publishes WWF press releases verbatim, and WWF has actively undermined indigenous people's resistance in the face of the logging onslaught in Congo. Like the massive rainforest rip-off underway, the Washington Post, New York Times, Newsweek and BBC have reported none of this.
Instead, Newsweek blames poor Congolese "charcoal gatherers."
Mainstream media has it wrong—again.
http://www.opednews.com/articles/opedne_georgian_070801_deconstructing_newsw.htm