Red Army rape
Stalin Genocide Rape Allied War Crimes
[1.9 million German women raped by Soviet soldiers (many to death), condoned by Churchill. One Russian Captain who tried to prevent the rape of German women was sentenced to 10 years in the Gulag for 'bourgeois humanism and compassion towards the enemy'.1 This is still going on in the Congo 2 along with sex slavery, all created by the Americans and British.]
See: Allied War Crimes
[2016] Carnage and Cover-Up by Mike Walsh approximately 2,000 girls were murdered during the first three days of the first round of Russian occupation.
[2014 Book, Film] Hellstorm: The Death of Nazi Germany, 1944-1947 by Thomas Goodrich
[2014 Nov] Hellstorm: The Devil's Cauldron The Mass Rape of German Women by the Red Army and its Allies by JA Sexton and Lasha Darkmoon.
Two million German women were savagely raped and tortured at the tail end of WWII. No one has yet apologized for these horrific war crimes. Why not? Of the 2 million German women who were raped, an estimated 240,000 died in the process after sustaining multiple wounds and being gang-raped several times—sometimes as many as 100 times in a single day. A large number of these women are said to have committed suicide.
According to Beevor, estimates of rape victims from Berlin's two main hospitals ranged from 95,000 to 130,000. One doctor calculated that out of approximately 100,000 women raped in Berlin, roughly 10,000 died as a result. Mostly from suicide. The death rate was thought to have been much higher among the 1.4 million estimated victims in East Prussia, Pomerania and Silesia. "Altogether at least two million German women are thought to have been raped," Beevor concludes, "and a substantial minority, if not a majority, appear to have suffered multiple rape." (See here). Note that we are talking about 2 million different women being raped, not about two million rapes. Given that women were often raped several times a day—sometimes 60-70 times according to one authority—the total number of rapes could well have numbered over 20 million.
[2010 March] German victim is first to break silence on Red Army rapists after 65 years
[2008] Was Churchill a "Holocaust Denier"? By T Stokes Churchill condoned the Soviet rape squads sent into Germany at the wars end and helped Stalin hide the Soviet Katyn Forest murders, like Stalin, blaming the Germans for the crime.
[2008] Stalin's army of rapists: The brutal war crime that Russia and Germany tried to ignore
UNDERSTANDING THE REPTILIAN MIND By James Bartley
Quotes
"Berlin gave me the blues. We have destroyed what could have been a good race, and we are about to replace them with Mongolian savages. And all Europe will be communist. It's said that for the first week after they took it (Berlin), all women who ran were shot and those who did not were raped. I could have taken it (instead of the Soviets) had I been allowed." GENERAL PATTON'S WARNING
It is important to understand that biting, clawing, kidnapping, restraining, ritualistic sex torture and murder are behaviors which reptilians and reptilian controlled serial sex offenders mentally confuse with what we call SEX. To them all of these heinous crimes are part and parcel of sexual activity.....The readers must understand that this form of sadistic abuse is unfortunately a common feature in many serial sex offender cases. Untold numbers of women and young girls in Nanking were raped and mutilated in just this fashion in broad daylight, their defiled bodies left unburied for days. Some of the female corpses defiled in this manner were positioned into pornographic poses for camera toting Japanese soldiers. This form of female torture was often used as a prelude to execution in the Serbian Rape Camps. These types of "Violent Insertion" fantasies are had by serial sex offenders, some Reptilian-Human hybrids and by Crank and Crystal Methedrine users who are undergoing the Reptilian-Demonic hosting process. Former crank users have told me they would fantasize about tying up and restraining women in physically compromising positions and likewise torturing them with sharp objects. UNDERSTANDING THE REPTILIAN MIND By James Bartley
Churchill even remained silent over Stalin's rape squads; Russian soldiers entering Germany with orders to rape as many German women and children as possible, to disrupt the Eugenics tables. [2006] The Mystery of Super Spy - Sir Anthony Blunt by T. Stokes
[2014 Book, Film] Hellstorm: The Death of Nazi Germany, 1944-1947 by Thomas Goodrich A Horrified Witness: In the farmyard further down the road stood a cart, to which four naked women were nailed through their hands in a cruciform position. . . . Beyond . . . stood a barn and to each of its two doors a naked woman was nailed through the hands, in a crucified posture. In the dwellings we found a total of seventy-two women, including children, and one old man, 74, all dead . . . all murdered in a bestial manner, except only a few who had bullet holes in their necks. Some babies had their heads bashed in. In one room we found a woman, 84 years old, sitting on a sofa . . . half of whose head had been sheared off with an ax or a spade. [De Zayas, Alfred M. Nemesis at Potsdam:The Anglo-Americans and the Expulsions of the Germans—Background, Execution, Consequences. London: Routledge & Kegan Paul, 1977. Page 63]
Ilya Ehrenburg: Kill them all, men, old men, children and the women, after you have amused yourself with them! Kill. Nothing in Germany is guiltless, neither the living nor the yet unborn. . . . Break the racial pride of the German women. Take her as your legitimate booty. Kill, you brave soldiers of the victorious Soviet Army. [Lutz, Elizabeth. "Rape of Christian Europe—The Red Army's Rampage in 1945." The Barnes Review 3, no. 4 (Apr. 1997): 9–16.]
A Rape Victim: The Russians were coming and going the whole time and they kept eyeing us greedily. The nights were dreadful because we were never safe for a moment. The women were raped, not once or twice but ten, twenty, thirty and a hundred times, and it was all the same to the Russians whether they raped mere children or old women. The youngest victim in the row houses where we lived was ten years of age and the oldest one was over seventy. . . . [Kaps, Johannes, ed. The Tragedy of Silesia, 1945–46—A Documentary Account with a Special Survey of the Archdiocese of Breslau. Munich: Christ Unterwegs, 1952/53. Page 136]
A Witness from Neisse: These atrocities were not committed secretly or in hidden corners but in public, in churches, on the streets, and on the squares. . . . Mothers were raped in the presence of their children, girls were raped in front of their brothers. [Kaps, Johannes, ed. The Tragedy of Silesia, 1945–46—A Documentary Account with a Special Survey of the Archdiocese of Breslau. Munich: Christ Unterwegs, 1952/53. Page 228]
German Soldier: We had never seen anything like it—utterly, unbelievably monstrous! Naked, dead women lay in many of the rooms. Swastikas had been cut into their abdomens, in some the intestines bulged out, breasts were cut up, faces beaten to a pulp and swollen puffy. Others had been tied to the furniture by their hands and feet, and massacred. A broomstick protruded from the vagina of one, a besom from that of another. . . . The mothers had had to witness how their ten and twelve-year-old daughters were raped by some 20 men; the daughters in turn saw their mothers being raped, even their grandmothers. Women who tried to resist were brutally tortured to death. There was no mercy. . . . The women we liberated were in a state almost impossible to describe. . . . [T]heir faces had a confused, vacant look. Some were beyond speaking to, ran up and down and moaned the same sentences over and over again. Having seen the consequences of these bestial atrocities, we were terribly agitated and determined to fight. We knew the war was past winning; but it was our obligation and sacred duty to fight to the last bullet. [Testimony of "H. K.", Bergisch-Gladbach, Germany (copy in possession of the author).]
1. [2011] Exorcising Hitler: The Occupation and Denazification of Germany by Frederick taylor.
---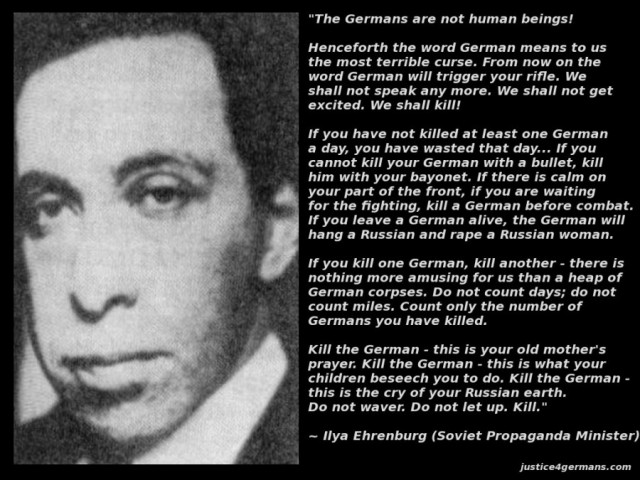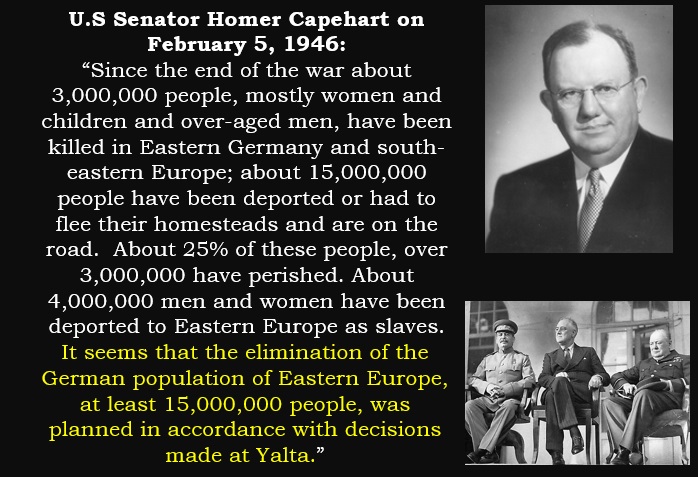 Mass Starvation of Germans, 1945-1950