Arizona Wilder
See: Blood (Satanism)
[vid] Arizona Wilder on Reptilian Rulers p1
[vid] Arizona Wilder - Bizarre Experiences of a Mind Control Slave - 1 of 6
Icke Video interview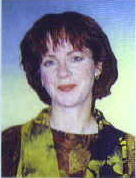 THE ILLUMINATI MILLENNIUM RITUALS by Arizona Wilder

"The Biggest Secret" "Revelations of a Mother Goddess" by Brian Desborough

[1999] Israelites, Mind Control, Ms. Wilder by Brian Desborough

A report from Andrew Hennessey on his observation of the tape he listened to produced by David Icke, The Arizona Wilder Video:

Nexus Publisher, Duncan Roads, Replies to David Icke's Expose that Sir Laurence Gardner is a Reptilian Shape-Shifter by David Icke

Sir Laurence Gardner, Reptilian Shape-Shifter? by David Icke

Quotes
The Illuminati, the clique which control the direction of the world, are genetic hybrids, the result of interbreeding between a reptilian extraterrestrial race and humanity many thousands of years ago. The centre of power is not even in this dimension -- it is in the lower fourth dimension, the lower astral as many people call it, the traditional home for the "demons" of folklore and myth. These fourth dimensional reptilian entities work through these hybrid bloodlines because they have a vibrational compatibility with each other. This is why the European royal and aristocratic families have interbred so obsessively, as do the so called Eastern Establishment families of the United States which produce the leaders of America. Every presidential election since and including George Washington in 1789 has been won by the candidate with the most European royal genes. Of the 42 presidents to Bill Clinton, 33 have been genetically related to two people, Alfred the Great, King of England, and Charlemagne, the most famous monarch of what we now call France. It is the same wherever you look in the positions of power.. they are the same tribe! THE ILLUMINATI MILLENNIUM RITUALS by Arizona Wilder

"The Queen Mother was cold, cold, cold, a nasty person. None of her cohorts even trusted her. They have named an altar (mind-control programme) after her. They call it the Black Queen. I have seen her sacrifice people. I remember her pushing a knife into someone's rectum the night the two boys were sacrificed. One was 13 and the others 18. You need to forget that the Queen Mother appears to be a frail woman. When she shape-shifts into a reptilian, she becomes very tall and strong. Some of them are so strong they can rip out a heart and they all grow by several feet when they shape-shift (This is what the lady said who saw Edward Heath, among endless others.)"

Of the Queen, Arizona said:

"I have seen her sacrifice people and eat their flesh and drink their blood. One time she got so excited with blood-lust that she didn't cut the victim's throat from the left to the right in the normal ritual. She just went crazy, stabbing and ripping at the flesh after she shape-shifted into a reptilian. When she shape-shifts, she has a long reptile face, almost like a beak and she is an off-white colour. (This fits many descriptions of the gods and the "bird gods" of ancient Egypt and elsewhere.) The Queen Mother looks basically the same, but there are differences. She (the Queen) also has bumps on her head and her eyes are very frightening. She's very aggressive..."

"...I have seen (Prince Charles) shape-shift into a reptilian and do all of the things the Queen does. I have seen him sacrifice children. There is a lot of rivalry between them for who gets to eat eat what part of the body and who gets to absorb the victim's last breath and steal their soul. I have seen Andrew participate and I have seen Prince Phillip and Charles sister (Anne) at the rituals, but they didn't participate when I was there. When Andrew shape-shifts, he looks more like one of the lizards. The royals are some of the worst. Ok, as far as enjoying the killing, enjoying the sacrifice, and eating the flesh, they are some of the worst of all of them. They don't care if you see it. Who are you going to tell, who is going to believe you? They feel that it is their birthright and they love it. They love it."


"Various high-level Satanists who have escaped from the Illuminati by God's power were eyewitnesses to Satan appearing at the Rothchilds. They testified they witnessed Satan showing up at the Rothchilds as a very beautiful man who can shape shift, (at times his feet would be cloven hoofs). He wears a black tuxedo to gamble and play cards (winnings are sexual victims) & a white tuxedo when present just to socialize. He can also shape shift into a reptilian. As a sincere researcher, I must report that lots of info. about shape shifting reps has confronted me in so many independent places in such a wide variety of historical periods that this bizarre topic must have some importance. I've withheld my findings for years, because I feel quite tentative about my results. David Icke gives details of this strange topic & his bold views in The Biggest Secret." - Fritz Springmeier (Bloodlines of the Illuminati).

[Arizona Wilder] Yes it is. Because human beings all through the ages have accepted gods interbreeding, or being accepted as humans. And that shows in Christianity, that shows in Judaism. They have also used Egyptology, or the Egyptian religions a lot. And the present head of the Illuminati compares himself a lot with the Egyptian god Osiris and Horus, which is Osiris reborn. And also with the Arthurian legends of the Roundtable. And the name that he carries from that is Pindar, which actually means "Phallus of the Dragon." And the other name, Osiris, he has carried because he takes the name at this time the Marquis de Libeaux [libero] which means liberator of or from the waters. And the story of Osiris is that he was cut into 14 pieces and thrown into the river Nile, and Isis found the pieces and put them back together again. And she could not find the 15th piece -- which happened to be the phallus -- so a gold phallus was made. And this is very important in this group. In the Illuminati this is important. And it is important to think about the head of the Illuminati, because what comes from a golden phallus would be a superior seed for a race. And this is what they are doing with all of these bloodlines to keep the bloodlines going. They are impregnating people of Aryan blood, that hold high stations with them, impregnating them with this seed of Pindar. And therefore it's important to keep this history in mind, and the names in mind, that he is going by at this time. Icke Video interview

Video
Arizona Wilder presents: Deceived No More
Arizona Wilder on Government Mind Controlled Slaves, pt 1
David_Icke_Revelations_Of_A_Mother_Goddess.avi


Arizona Wilder on Government Mind Controlled Slaves, pt 1


Confessions of a mother goddess, David Icke.