Naturopathic Herbalism
Natural Healing
"80% of my patients were well just after doing my thorough bowel cleansing program."--Dick Shulze, N.D. M.H.
See: Cleansing

Dick Shulze, N.D. M.H.
Bruess
Essiac
Hoxsey
Herbal Naturopathy quotes
Herbs for cancer


Tincture making
Forbidden words (medicine)
[Media Nov 2006 Cayenne] NEW SUPERFOOD CURE FOR CANCER
Native American tobacco helps smokers kick the habit and repair their lungs
Carrot juice: Key to rejuvenating the liver By Ingri Cassel

Heart disease
Cayenne Pepper
LOBELIA - NATIVE AMERICAN WONDER HERB
Natural antidotes to biological toxins
Lecture of Dr John Christopher, 1978

ARTHRITIS, A NEEDLESS CRIPPLER by Dr. John R. Christopher
AIDS - You Can Cure It-----Dr. Richard Schulze
Curing With Cayenne---Dr. Richard SCHULZE, Medical Herbalist
Are some herbs really toxic? by Dr. Zoltan P. Rona MD MSc http://www.selene.com/healthlink/toxic.html
Herb and nutrient sources

Herbalists
Past
Bruess
Dr John Christopher
Present
[USA] Christopher Hobbs
[USA] Dr Shulze
[USA] Sam Biser
[AUS] Kitty Campion
External
http://plantcures.com/index.html
Books
School of Natural Healing by John Christopher
Curing with Cayenne by Sam Biser
Left For Dead by Dick Quinn
The Breuss Cancer Cure by Rudolph Breuss.
There Are No Incurable Diseases--Dr Richard Schulze
Health & Healing --Dr Schulze
Foundations of Health---Christopher Hobbs
Cancer's Natural Enemy e-book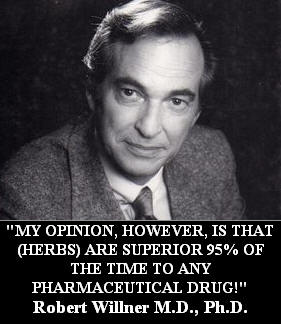 Robert Willner, M.D.