[Allopathy Inc has been getting away with hiding vaccine Deaths for 200 years (e.g. bare minimum of 25,000 in 1880 through Hiding smallpox vaccine deaths Coroners hiding vaccine deaths ) thanks to Coroners (see deaths hidden under Shaken Baby Syndrome Cot-Death, Munchausen's Syndrome by Proxy) who are all medical men run by Allopathy Inc. Also State hits such as Diana and Dr Kelly. In America they are a bit more brazen, Gary Webb was a 'suicide' even though it was 2 shots with a .38! A jaw dropping one is the Coroner in Mena, Arkansas (you can see him on google video), he even pronounced suicide in one case where the guy's head was missing!]
See:
Diagnosis
Experts
Pathologists
Judge watch
Post mortem/autopsy
MAD (medically assisted death)
'Suicides'

[Diana murder Coroner] John Burton
[7/7 Coroner] Paul Knapman
[MMR death Coroner] Coroner Alan Crickmore
[2017 Jan 17] A 7-Pound Premature Baby Died After Receiving 8 Vaccine Doses, Her Death Was Blamed On Co-Sleeping Instead Of The Toxic Vaccines ''The whole conspiracy with the FDA who are approving the drugs, the doctors who are saying they are safe and coroners who are covering up the truth with some bogus cause of death that is for us to believe about our children, this has to stop!''
The Queen's Lord-Lieutenants, Elm Guest House, child-rapist Cyril Smith, BBC Paedophiles, Mark Speight, MI5, Childline, Paul Knapman, William Hague and the Dolphin Square Connection
Breitbart & Michael Cormier (Death still remains an open case) Michael Cormier was one of the technicians at the LA County Coroner's office who oversaw the Breitbart autopsy. He passed away on April 20th, 2012 ( the same day that Andrew Breitbart's cause of death was announced) under mysterious circumstances, he was only 61.
Andrew Breitbart's coroner dead from suspected poisoning
The Strange Life and Death of Alexander McQueen The coroner responsible for the inquest into McQueen's death was none other than Establishment tool extraordinaire, Paul Knapman. He quickly blamed depression and drugs on the death and claimed that a mixture of cocaine and an unbalanced mind caused McQueen to hang himself. By a strange coincidence, this was virtually the exact wording used by Knapman at the inquest of Mark Speight who also apparently ' hung himself' following the death of his fiancée, Natasha Collins.
The Coroner in Charge of the Investigation of Amy Winehouse's Death Resigns In my article entitled Amy Winehouse and 27 Club, I mentioned that the circumstances surrounding Winehouse's death are rather "suspicious" and that "suspicious" celebrity deaths are often followed by vague explanations, botched investigations and all kinds of shady business. After months of strange flip-flopping regarding the cause of Winehouse's death, the coroner that was looking into the singer's case, Suzanne Greenaway , has resigned because she "did not have the correct qualifications". Even odder, she was appointed to this particular position by her husband
That De Menezes coroner's summing up in full
Coroners hiding vaccine deaths
Inquest and Autopsy Reports for Hilda Murrell
[2009 July] Did MI5 kill Dr David Kelly? an inquest on his body was ruled out by Oxfordshire's coroner, a highly unusual move
[2009] In memoriam Dr. David Kelly. RIP An inquest should have been held into his death, but surprise surprise, the case was taken away from the Corner. Why? Well, in a Coroner's court a verdict of suicide has to satisfy the test of beyond all reasonable doubt. The evidence put to Lord Hutton didn't satisfy any kind of test at all, apart from the gullibilty of credulous fools in the Fourth Estate.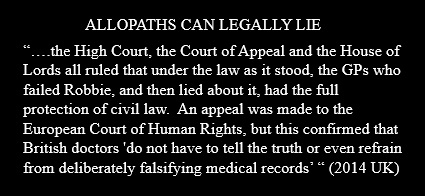 How Robbie's tragic death could stop doctors telling lies to cover up their mistakes
External
Coroners Behaving Badly. David Hinchliffe - An "arrogant, unreformed relic of feudalism"

Quotes
Removal of Murder as a Possible Verdict: On the morning of 31 March, at the start of his summing up, Lord Justice Scott Baker announced to the jury that he was withdrawing murder from the possible verdicts available to them. He stated: "My direction in law to you is that it is not open to you to find that Diana and Dodi were unlawfully killed in a staged accident" (13.25, 14.1-2). Baker went on to explain: "When a coroner leaves a verdict of unlawful killing, in this case on the basis of a staged accident, to a jury, he must identify to the jury the evidence on which they could be sure of such a conclusion. But in this case sufficient evidence simply does not exist" (14.11-15). [2008] Unresolved Issues of the Diana and Dodi Inquest by John Morgan
''The whole conspiracy with the FDA who are approving the drugs, the doctors who are saying they are safe and coroners who are covering up the truth with some bogus cause of death that is for us to believe about our children, this has to stop!'' [2017 Jan 17] A 7-Pound Premature Baby Died After Receiving 8 Vaccine Doses, Her Death Was Blamed On Co-Sleeping Instead Of The Toxic Vaccines
In 2002, the BBC wrote: "Bruno Tagliaferro, a Charleroi scrap-metal merchant who knew Dutroux, claimed to know something about the car in which Julie and Melissa were kidnapped. But he was soon found dead, apparently of a heart attack."...A rather suspicious heart attack, under the circumstances. His wife also thought so and "refused to accept the verdict and arranged for his body to be exhumed. Samples sent to the US for analysis showed he'd been poisoned.".....The BBC added: "Soon after, her teenage son found her dead at home in her bed, her mattress smouldering. Publicly it was declared suicide, or an accident." The sinister Marc Dutroux cover-up
The coroner said it would be two weeks before a cause of death could be determined. The coroner and police treated me like I had committed a crime, taking pictures of her old bottles and formula. They questioned me over and over. It was not the kind of situation a mother should be in when her child has just died.
About two months later, we received a telephone call from a Dr. Thomas Gill, of the Marion County Coroner's Office. He told us the cause of death was the Hepatitis B virus - which she could only have gotten form the vaccine. He told me that he would get the death certificate out to me very soon.
Sixteen weeks later, we received the death certificate in the mail and the cause of death was "natural causes" otherwise known as "SIDS" (Sudden Infant Death Sudden). I was shocked to say the least. I called the Coroner's Office and spoke to Dr. Manders, the Coroner of Marion County and was told that Dr. Gill had been asked to resign.
Dr. Manders stated that he had signed the death certificate. I asked how he could sign the death certificate if he did not perform the autopsy. He told me that he had done so since Dr. Gill was no longer there. We have not been able to determine how he came to the cause of death since he did not perform the autopsy and that Dr. Gill told us something very very different. He told me that if I had questions, to call a Dr. Pless, a pathologist at Indiana University. I did call and made an appointment to speak to Dr. Pless. He was a man with out compassion. The most cold-hearted I have ever met. He told me to stop trying to place the blame of my child's death on someone and go on with my life. He also stated that if the vaccine did kill my daughter that it was saving more live than it was taking. Testimony Of Tonya and Gerald Nelson
"Furthermore, much depends on how statistics are gathered. Until recently most autopsies on infants were carried out in a haphazard fashion. Often, no autopsies were performed. Now, in most parts of the western world, strict criteria are applied and autopsies performed by specialist teams. Many cases that previously would be considered as qualifying for the diagnosis of SIDS are now excluded. This artificially reduces the incidence compared to pre-autopsy and specialised consideration times. To accurately follow recent trends one needs to look at the overall infant mortality rate. This is the bottom line and cannot be easily manipulated."--Dr Kalokerinos MD (Medical Pioneer of the 20th century p178)
"Mr. Henry May, Medical Officer of Health, candidly states as follows: "In certificates given by us voluntarily, and to which the public have access, it is scarcely to be expected that a medical man will give opinions which may tell against or reflect upon himself in. any way. In such cases he will most likely tell the truth, but not the whole truth, and assign some prominent symptom of the disease as the cause of death."---Alfred Wallace


J.T. Biggs Hiding smallpox vaccine deaths Preserve vaccination from reproach