THE MMR URABE ATROCITY
[back] MMR vaccines
''So a dangerous vaccine, a knowingly dangerous vaccine was introduced and ultimately proven to be dangerous and had to be withdrawn (6:00) in 1992.'' ~ Dr Andrew Wakefield
[If you want one classic well proven vaccine example to expose the true psychopathic nature (see: Allopathy Inc personality profile) of the vaccine/medical industry, this would be it. This is the MMR vaccine with the Urabe mumps strain, called Pluserix & Immravax in UK, Trivirix in Canada. Canada withdrew licences for the vaccine in May 1988, yet the Joint Committee on Vaccination and Immunisation still went ahead and introduced it into the UK, in 1988! Four years later, on September 14, 1992 it was eventually banned in the UK after it was revealed that children developed meningitis. On Sept 16, 1992 the New Zealand government withdrew Pluserix (see: MMR timeline).
Five years later in 1997: the Smith Kline Beecham Urabe MMR jab was used in a mass vaccination programme in Brazil & Italy was still using Urabe strain MMR vaccines until 2006 1 . Just one example of the complete disregard for child health from vaccine companies and Pharma shills such as the UK Government.
The men involved on the vaccine committee that approved Pluserix included Salisbury, Professor McDevitt, DAVID HULL & Professor George Nuki, all connected to the persecution of Dr Wakefield. See: [pdf 8 March 1988]]
See The Great Swine Flu Massacre 1976 Genocide in Africa via Oral Polio Vaccine [2012 Sept] Dangerous Banned Vaccine Repackaged and Given New Name [2012 Oct] Defective Novartis flu vaccine pulled from global markets, except the US
See: "Pichichero has served as consultant to the World Health Organization, and his research has held considerable weight in the WHO decision to continue using thimerosal in vaccines administered in nations outside the United States."--- [Jan 2008] Babies excrete vaccine-mercury quicker than originally thought
Quotes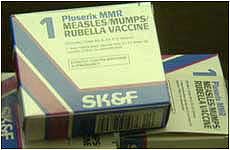 MMR deaths
MMR timeline
[2012 May] Italian Court of Rimini MMR autism case The MMR vaccine concerned, Morupar, contained the Urabe strain of mumps vaccine, just like Pluserix MMR and Immravax MMR vaccines in the UK
Lie of the decade from Department of Health: " The normal procedure for licensing was used for MMR and the vaccine was thoroughly tested before being introduced into the UK in 1988." MMR Top 10 truths and top 10 myths
SUPPLY AGREEMENT Aug 1988 Between SK and NHS
[8 March 1988] [copy 2] Salisbury, McDevitt, HULL, Meadow, Miller, Rotblat,
[6 Oct 1989] Salisbury, Meadow, Miller
[17 Sept 1990] Salisbury, McDevitt Meadow, Miller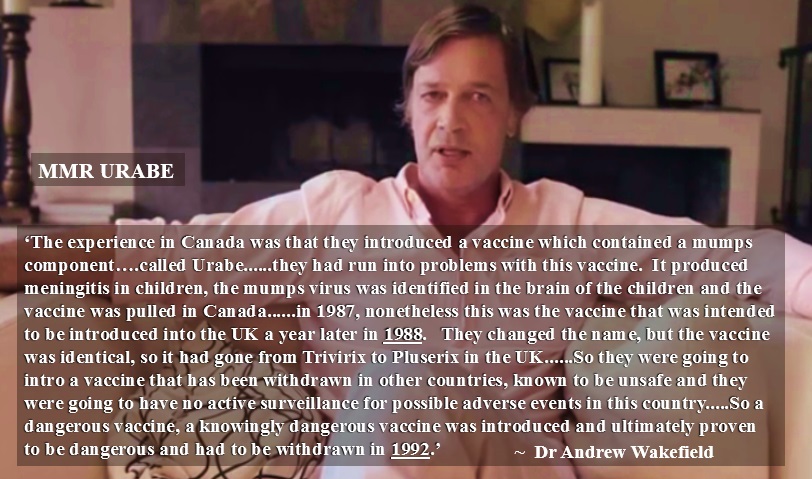 Dr. Andy Wakefield
Articles:
[2012 Jan] Freedom Of Information Request Reveals Major Government Vaccine Conspiracy By Christina England
[pdf 2011 Dec] Baby Made Deaf by MMR is Refused Compensation for NOT Being Disabled ENOUGH! by Christina England It has now been proven that the 'Vaccine Damage Payments Unit' (VDPU) not only cherry pick who they award compensation to, depending on the level of disability but also change their rules to suit their needs, as they go along. Katie Stephen has been left permanently and profoundly deaf in her left ear as a result of receiving the now banned MMR vaccine, Pluserix. Despite her injury however, Katie has been refused compensation for her disability because the VDPU deems her to be less than 60% disabled.
[2011 Aug] Families Sue Their Lawyers For Negligence Over MMR Cases By Christina England
[2011 Aug] Autism Figures – Existing Studies Shows Shocking Real Increase Since 1988
[2011 May] UK Government Documents on Aluminium in Vaccines by John Heptonstall It has been found that Calcium Gluconate solution in glass vials contains almost 200 times more aluminium than Calcium Gluconate in plastic vials; this is due to the solution leeching aluminium from the glass.....Many vaccines are packaged, and stored for long periods, in glass vials with rubber stoppers, and aluminium is a commonly used adjuvant at specific concentrations, the MHRA findings suggest that these concentrations of aluminium may have been heavily contaminated by leeched aluminium at levels which should cause concern.
....Examples of vaccine containment include Pluserix vaccine, manufactured by Smith-Kline Rit, SA, gained Product License No. 002/0166 in 1988 under the Medicines Act 1968 and is described on the Part 1 Schedule as being contained in neutral type 1 glass vials with bromobutyl rubber stoppers, aluminium overcaps and flip-off tops, along with the diluent in neutral type 1 glass ampoules or vials with butyl rubber stoppers and aluminium overcaps. Immravax, manufactured by Institut Merieux, received Product Licence No. 6765/0020 in 1989 which describes the vaccine as being contained in single or multidose glass vials. Infanrix, the Hib DTP-IPV vaccine of GlaxoSmithKline uses glass vials. Meningitec manufactured by Wyeth is also stored in glass vials. The recently hyped H1N1 vaccine issued in millions of doses prepared in glass vials each containing 10 individual patient doses; in Chicago alone more than 100,000 persons were inoculated with that vaccine; will Chicago experience an associated increase in mental deterioration as neurological effects take hold amongst that vaccinated group?
[2010 Sept] Nutters And Journalists Who Support Ben Goldacre
[2010 Aug] What's Behind Ben Goldacre? By John Stone
[2010 April] Bringing the Urabe Atrocity to Court: Statement by the Parents of Harry Horne-Roberts
[2010 April. Video] Dr Andrew Wakefield - In His own words
An open letter for the attention of David Salisbury from Alan Golding
[2009 April] FARNINGHAM: Mum attends autistic rally Mrs Butler's 19-year-old son, Matthew, was diagnosed with the condition when he was just 18 months old. Matthew developed autism after having an MMR jab.
[pdf 2009 march] The Urabe Farrago. A Recent Historical Example of Corporations and Governments Hiding Vaccine Damage for the Greater Good by Martin J Walker MA
[2009 Jan] Secret British MMR Vaccine Files Forced Open By Legal Action
MMR Urabe and deafness
[March 2007] PARENTS FIGHT TO PROVE GIRL LEFT DEAF BY MMR VACCINE
[April 2008] MMR/AUTISM & THE TAMING OF THE BRITISH MEDIA--Clifford Miller
[2007] Parliament was given false MMR assurance
[2007] Revealed: how Whitehall dismissed MMR alarms
[June 2007 Private Eye] MMR Conflict of Interest Zone
[March 2007] Vaccine officials knew about MMR risks
[March 2007] Early fears about MMR in secret papers Katie Stephen was a healthy baby girl when she was injected with the MMR triple vaccine. Ten days later she was vomiting, delirious and running a fever. That was in 1990. Seventeen years later, she is deaf in one ear.....Toby Stewart of west London was one of the children given it. He soon developed encephalitis-type symptoms and was left with what his father Andy, a business consultant, describes as "low-scale brain damage".
[Media UK, April 2001 MMR] Jab risk was ignored
[Media Aug 2002] Health authorities block import of unlicensed single mumps vaccine
[Media June 2000, MMR--meningitis & death] Mother's regret over son who still suffers JULIET Parsons still finds it difficult to talk abut the time her son developed meningitis after he was given the Urabe jab nine years ago. She said Matthew continues to suffer side effects. He has learning difficulties, still has fits and regularly gets ill due to a weak immune system.
[Media 1/2002 MMR deaths] Were all of these children killed by the triple MMR jab? In 1995 the Government's vaccine damage tribunal paid £30,000 compensation to James Smith, of Gateshead, for brain damage after he was given MMR at the age of four. James died nine years later aged 13.....Judith Dwyer, received a payment after her four-year-old daughter Chloe died following a 'booster' jab of Urabe containing MMR in 1989. 'Chloe first developed pins and needles in her legs, then paralysis and problems breathing. She was rushed to hospital but it was too late.'
MMR vaccine & aseptic meningitis, Japan 1989-1993
[pdf 1987] MMR Trivirix Mumps meningitis
Citations:
OUTBREAK OF ASEPTIC MENINGITIS ASSOCIATED WITH MASS VACCINATION WITH A URABE CONTAINING MMR VACCINE
Dourado I, Cunha S, Teixeira MG, Farrington CP, Melo A, Lucena R, Barreto ML.Outbreak of aseptic meningitis associated with mass vaccination with a urabe-containing measles-mumps-rubella vaccine: implications for immunization programs. Am J Epidemiol. 2000 Mar 1;151(5):524-30. PMID: 10707922
A mass immunization campaign with a Urabe-containing measles-mumps-rubella vaccine was carried out in 1997 in the city of Salvador, northeastern Brazil, with a target population of children aged 1-11 years. There was an outbreak of aseptic meningitis following the mass campaign. Cases of aseptic meningitis were ascertained through data collected from the records of children admitted to the local referral hospital for infectious diseases between March and October of 1997, using previously defined eligibility criteria. Vaccination histories were obtained through home visits or telephone calls. Eighty-seven cases fulfilled the study criteria. Of those, 58 cases were diagnosed after the vaccination campaign. An elevated risk of aseptic meningitis was observed 3 weeks after Brazil's national vaccination day compared with the risk in the prevaccination period (relative risk = 14.3; 95% confidence interval: 7.9, 25.7). This result was confirmed by a case series analysis (relative risk = 30.4; 95% confidence interval: 11.5, 80.8). The estimated risk of aseptic meningitis was 1 in 14,000 doses. This study confirms a link between measles-mumps-rubella vaccination and aseptic meningitis. The authors discuss the implications of this for the organization and planning of mass immunization campaigns.
Autret E, Jonville-Bera AP, Galy-Eyraud C, Hessel L.[Aseptic meningitis after mumps vaccination].Therapie. 1996 Nov-Dec;51(6):681-3. French.PMID: 9164005
The aim of this retrospective study was to evaluate the incidence and the characteristics of spontaneously reported aseptic meningitis (AM) in France following mumps vaccination with monovalent or multivalent vaccines containing the Urabe strain. Fifty-four cases of AM were reported to the regional drug surveillance centres or to the manufacturer from the time each vaccine was launched up until June 1992. Twenty cases were associated with the time off administration of a monovalent mumps vaccine and 34 with a trivalent measles, mumps and rubella vaccine (MMR). A mumps virus was isolated in four cases in the cerebrospinal fluid and an Urabe-like strain was characterised twice by polymerase chain reaction (PCR). A probable mumps origin was assumed in 17 other cases where the patients presented with other clinical or biological signs of mumps infection. The clinical outcome of AM was always favourable. The global incidence of mumps vaccine-associated AM was 0.82/100,000 doses, which is significantly lower than the incidence in the unvaccinated population. Even considering that the actual incidence of AM is much higher when assessed by active surveillance studies, the risk/benefit ratio of mumps vaccine remains in favour of vaccination. The incidence of mumps vaccines containing Jeryl Lynn (ROR Vax et Imu ORR) associated with AM needs to be evaluated.
Kimura M, Kuno-Sakai H, Yamazaki S, Yamada A, Hishiyama M, Kamiya H, Ueda K, Murase T, Hirayama M, Oya A, Nozaki S, Murata R.Adverse events associated with MMR vaccines in Japan. Acta Paediatr Jpn. 1996 Jun;38(3):205-11.PMID: 8741307
The largest nationwide active surveillance of four Measles-Mumps-Rubella (MMR) vaccines was conducted in Japan. A total of 1255 pediatricians actively participated in the study, which comprised 8.6% of all members of the Japanese Pediatric Society. The total number of registered recipients of MMR vaccines was 38 203. They were arbitrarily given one of the MMR vaccines produced by three makers (Takeda, Osaka city, Kitasato Minato-ku. Tokyo and Biken Suita city, Japan) or the standard MMR vaccine made of designated strains (Kitasato's measles-AIK-C, Biken's mumps-Urabe Am9 and Takeda's rubella-To336) produced by Takeda, Kitasato and Biken and were observed for 35 days. The rates of virologically confirmed aseptic meningitis per 10,000 recipients were 16.6, 11.6, 3.2 and 0 for the standard MMR, Takeda MMR, Kitasato MMR and Biken MMR vaccines, respectively. The incidence of convulsions between 15 and 35 days was the highest with the standard MMR vaccine and the incidence of fever associated with vomiting occurring between 15 and 35 days (symptoms relevant to aseptic meningitis) were also the highest with the standard MMR vaccine. The incidence of parotid swelling was the lowest with Takeda MMR vaccine. This surveillance revealed that incidences of aseptic meningitis after administration of the standard MMR vaccine and of Biken MMR vaccine were different. This posed questions about the manufacturing consistency of the Urabe Am9 mumps virus vaccines. On the other hand, the National Institute of Health found that the biological characteristics of the Urabe Am9 mumps virus contained in the standard MMR vaccine and in the Biken MMR vaccine were different. The Biken Company reported that the mumps vaccine in the standard MMR vaccine was a mixture of two Urabe Am9 mumps vaccine bulks; one identical to that contained in the Biken MMR vaccine and the other produced by a different manufacturing process. PMID: 8741307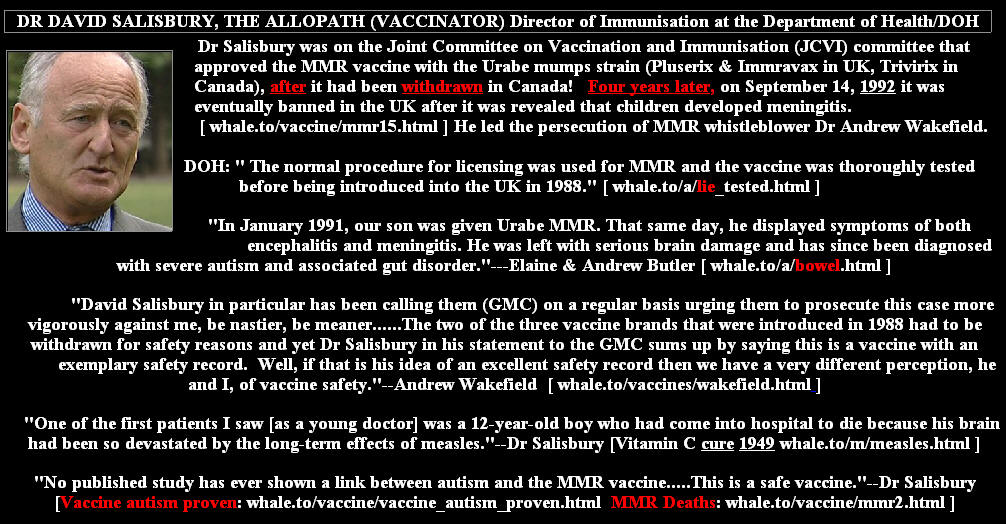 Salisbury, David Bowel disease Vaccines are adequately tested MMR deaths Vaccine autism proven