Eye Witnesses
[back] Holocaust revisionism
"Some events do take place but are not true; others are [true], although they never occurred." — Elie Wiesel, 1968
[Rudolf Hoess was tortured into 'confessing' exterminations were going on at Auschwitz. He was then executed (Judicial murder) so he couldn't change his story. The other Auschwitz commandants conveniently died, one from execution, Josef Kramer the other, Richard Baer, just before he was due to give evidence at the Frankfurt Auschwitz trial. Number one witness for the holocaust is Rudolf Vrba. See: Kol Nidre prayer]
See: Witness evidence Witness torture THE TRUTH ABOUT THE TALMUD by Michael A. Hoffman II and Alan R. Critchley
See: Fake terrorists Fake news events Fake witnesses Fake 911 Eye-witnesses
Kol Nidre prayer
A-Z
Baer, Richard [Auschwitz]
Barton, Dr. Russell [Belsen]
Berman, Dr. Adolph [Treblinka]
Blatt, Thomas
Bomba, Abraham [Treblinka]
Broad, Pery S.
Böck, Richard
Burg, Joseph G. [Auschwitz]
Christophersen, Thies [Auschwitz]
Defonseca
Dragon, Szlamy
Ebert, Lily
Eichmann
Ertl, Fritz [Auschwitz]
Fenelon, Fania [Auschwitz]
Frank, Otto [Auschwitz]
Frank, Hans [Belzec ]
Frankl, Viktor
Friedman, Arnold
Gerstein, Kurt [Treblinka Belzec ]
Gawkowski, Henryk [Treblinka]
Gleick, Edith
Hart-Moxon, Kitty [Auschwitz]
Hoess, Rudolf [Auschwitz]
Herwaarden, Maria Van [Auschwitz]
Hirt, Joseph [Auschwitz]
Karski, Jan [Belzec]
Kautsky, Benedikt [Auschwitz
Klein, Dr. Fritz [Auschwitz Belsen]
Kramer, Josef [Auschwitz Belsen]
Kremer, Dr Johann Paul [Auschwitz]
Kneuper, Bernard [Dachau]
Kogon, Eugen [Buchenwald]
Kosinki, Jerzy
Langbein, Hermann [Auschwitz]
Lengyel, Olga [Auschwitz]
Litwinska, Sophia [Auschwitz]
Marian Olszuk [Treblinka]
Mengele
Mirchuk, Petro [Auschwitz]
Morgen, Konrad [Auschwitz Buchenwald]
Mueller, Filip [Auschwitz]
Nyiszli, Miklos
Oberhauser, Joseph [Belzec]
Rajzman, Samuel
Rassinier, Paul [Buchenwald]
Reder, Rudolph [Belzec]
Rosenberg, Eliahu [Treblinka]
Rudolph, Tijudar [Auschwitz]
Salt, Renee
Shipper, Zigi
Sitte, Dr. Kurte [Buchenwald]
Speer, Albert
Stäglich, Judge Wilhelm [Auschwitz]
Stangl, Franz
Tauber, Henryk [Auschwitz]
Tillion, Germaine [Ravensbrück]
Veil, Simone
Vrba, Rudolf [Auschwitz]
Wiesenthal, Simon
Wiesel, Elie
Wilkomirski, Binjamin
Zisblatt, Irene

Auschwitz-Birkenau [Auschwitz]
Ebert, Lily
Elie Wiesel
Sophia Litwinska
Thies Christophersen
Olga Lengyel
Tijudar Rudolph
Judge Wilhelm Stäglich
Rudolf Vrba
Rudolf Hoess
Hart-Moxon, Kitty
Josef Kramer
Frankl, Viktor
Richard Baer
Konrad Morgen
Dr. Fritz Klein
Filip Mueller
Fania Fenelon
Petro Mirchuk
Maria Van Herwaarden
Joseph G. Burg
Nyiszli, Miklos
Benedikt Kautsky
Hermann Langbein
Otto Frank
Fritz Ertl
Szlamy Dragon
Dr Johann Paul Kremer
Henryk Tauber
Edith Gleick
Pery S. Broad
Richard Böck
Shipper, Zigi
Wilkomirski, Binjamin
Zisblatt, Irene

Belzec [Belzec ]
Kurt Gerstein
Joseph Oberhauser
Rudolph Reder
Jan Karski
Hans Frank
"...most of the memoirs and reports [of 'Holocaust survivors'] are full of preposterous verbosity, graphomanic exaggeration, dramatic effects, overestimated self-inflation, dilettante philosophizing, would-be lyricism, unchecked rumors, bias, partisan attacks..."—Samuel Gringauz, "Jewish Social Studies" (New York), January 1950, Vol. 12, p. 65.

Faurisson, Professor Robert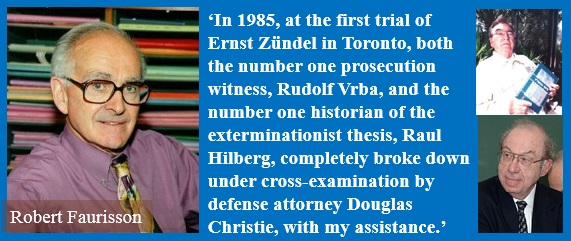 Faurisson, Professor Robert Vrba Hilberg, Raul


Germar Rudolf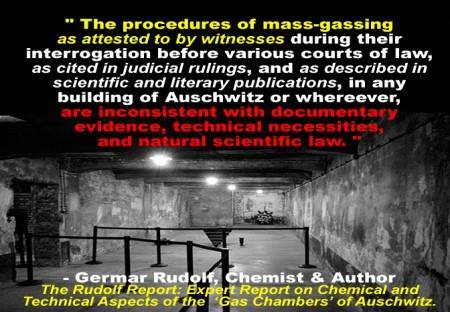 Germar Rudolf Forensic examinations


Wiesel, Elie
[2016 April] The Wilkomirski Affair: How a Holocaust Hoaxer was Rewarded for his Lies
[2014 May] Author of fake Holocaust memoir ordered to repay publisher £13.3 million

Hunt, Eric 'Holohoax Survivors Who Tell The Truth' has really hit a nerve. It's shocking to hear Auschwitz inmates tell about their elaborate stage, with curtain rings and a grand piano, where they had plays and other musical performances. It's shocking to see video of happy children playing in Theresenstadt juxtaposed with a woman telling about fun costumed children's plays in her Auschwitz block, along with arts and crafts activities, with beautiful children's murals painted on the walls. According to the official Holocaust narrative, all children were immediately gassed upon arrival! "Testimony" such as this is extremely important to cast doubt on the "factory of death" Holocaust promoters push. Auschwitz and Buchenwald inmates speak about being paid for their work in special currency, using their currency in camp cantinas and at the camp movie theater, receiving and sending postcards, and playing in well organized soccer tournaments.
[2014] Woman who wrote fake Holocaust memoir must pay back $22.5M to publisher
[2012 Sept] The story of Viktor Frankl, a famous Holocaust survivor
[2010 Nov] AS MANY AS 90% OF THOSE CLAIMING TO BE HOLOCAUST SURVIVORS MAY BE FRAUDS
Elie Wiesel Cons the World When he injures his foot, instead of being sent to a gas chamber (or the burning pit) because he is no longer useful, he is put into a hospital where surgery is performed on his foot! Not only that, his father is allowed to stay there with him.
Murder in Wiesenthal's Footsteps With horror we find that all twelve hunted "deniers of the gas chambers" died under mysterious circumstances. Interestingly, Uwe Barschel (the chief minister of Schleswig Holstein), Heribert Apfalter (the president of the nationalized Austrian steel industry), and Herbert Amry (the Austrian ambassador in Athens) also died the same mysterious way as did the "gas chamber deniers", as described here. Does the Mossad have a "Tesla Ray" weapon?
Alleged extermination camps: Chelmno, Belzec, Treblinka, Sobibor, Auschwitz-Birkenau, Gross-Rosen, Stutthof, and Majdanek
The judge asked the prosecutor if he would call any "survivors" to the witness stand. The prosecutor answered no. The experience of 1985 had been too embarrassing. The cross examination had been devastating. It is regrettable that at the trial of Klaus Barbie in France in 1987 and at the trial of John Demjanjuk in Israel in 1987-1988, no defense lawyer has followed Douglas Christie's example in the first Zündel trial (1985): Christie had shown that by carefully questioning witnesses about the gassing process itself, one could destroy the very foundation of the "extermination camp" myth. The Zündel Trials (1985 and 1988) by ROBERT FAURISSON
The main factor that encourages lies to flourish is the absolute security that lying witnesses will never be found out or at least never prosecuted. Exposing Holocaust liars in the media and literature happens seldom and usually is handled gently. The worse thing that can happen to fraudulent media witnesses is that they disappear again into anonymity from which they briefly emerged –with a little more money in their pockets. In courts of law, false Holocaust witnesses get off free as well, even if they have lied under oath. Most motions to have witnesses prosecuted for lying are rejected by the courts on the grounds that former persecuted victims shall not again be prosecuted. This, of course, becomes an open-door policy for lies. Lectures on the Holocaust by Germar Rudolf
Bruno Baum, a former communist inmate in Auschwitz, was allowed to brag in summer 1945 in a Soviet newspaper: "The whole propaganda which started about Auschwitz abroad was initiated by us [German communist inmates] with the help of our Polish comrades." (Deutsche Volkszeitung, Soviet paper in occupied East Germany, 31 July 1945). Thus, it is not surprising to learn that during several trials in Germany, it emerged that the testimony of witnesses from eastern Europe had been orchestrated by communist authorities. THE HOLOCAUST CONTROVERSY The Case For Open Debate An Introduction by Germar Rudolf
For the Benefit of Judy Cohen An expose of Holocaust activist, Judy Cohen.
Irene Zisblatt, the "Diamond Girl" - Fact or Fiction? by Joachim Neander, PhD, independent scholar
THE TRUTH ABOUT THE TALMUD by Michael A. Hoffman II and Alan R. Critchley
Death Sentence: The Case of Willy Frey By Joseph P. Bellinger
Unusual Case of the Runs by Joseph P. Bellinger
Confessions of SS Men who were at Auschwitz by Robert Faurisson
A Prominent False Witness: Elie Wiesel By Robert Faurisson
[1986] How the British Obtained the Confessions of Rudolf Höss by Robert Faurisson His confessions were false. They had been extorted from Höss by torture, but it took until 1983 to learn the identity of the torturers and the nature of the tortures they inflicted upon him.
A Brief List of the Conveniently Deceased by Thomas Kues
11 'Eye-Witness' Stories Contradicted by Air Photos
Two false testimonies from Auschwitz, The Journal of Historical Review, Spring, 1990; vol. 10 no. 1: p. 25
When It's Confession Time at Dachau, or, I saw the Light While I was Seeing Stars by Carlos Porter
A Fake Eyewitness to Mass Murder at Belzec
Porter, Carlos W. "If you can't eat 'em, beat 'em (or, How I killed thousands with my bare hands)."
The Lies, Slips, Bungles and Perjuries of Filip Mueller, Professional Witness of Auschwitz-Birkenau by Maria Temmer
If it's all a hoax, then why did no one come forward, even years later and say it was a hoax. The answer is that the Germans who knew it was a hoax were the ones in the camps. Not the German public or those outside the camp. The Germans who worked in delousing camps framed as death camps, like Sobibor and Treblinka; or who worked in labor camps framed as death camps like Auschwitz. They were vulnerable to prosecution. Any German who worked in these camps, could have a Thomas Blatt figure come along and say "I saw you beat my father!" on the witness stand. Thomas Blatt's testimony, for instance, was largely responsible for putting Karl Frenzel in jail for his whole life. Thomas Blatt Sobibor Fraud
" Today, gas chamber witnesses are making themselves extremely scarce and the Demjanjuk trial in Israel, which once again has revealed how much false testimony is involved in the matter, has contributed to the suppression. Several years ago, it happened that I was aggressively questioned at the rear of a law court by elderly Jews who presented themselves as "living witnesses to the gas chambers of Auschwitz", showing me their tattoos. It was necessary for me only to ask them to look me in the eyes and to describe for me a gas chamber that inevitably they retorted: "How could I do this? If I had seen a gas chamber with my own eyes I would not be here today to speak with you; I myself would have been gassed also." " ----Faurisson.