The diseases, conditions, behavioural diagnosis (autism)..
Home
Quotes
Blood
Positive effect of childhood diseases
Therapies for vaccine damage

(eg autism)

Banners
Vaccine disease
Vax autism

Vaccine diseases
AIDS
Anthrax
Bird Flu
Chickenpox
Cholera
Diphtheria
Flu
Hepatitis
Measles
Meningitis
Mumps
Polio
Rubella
Smallpox
Rabies
Tetanus
Typhoid
Tuberculosis
Whooping Cough

Iatrogenic:
Iatrogenic
Dental source
Vaccines (articles)
Drugs (articles)
Citations re vaccines
Citations re other drugs
Silicone

A-Z
Acute flaccid paralysis
ADD
Addiction

Wilson, William Griffin
Gambling
Heroin
Pharma drugs
Ageism
AIDS
Allergy (peanut)
Allergies & drugs
Anthrax
Appendicitis
Adrenal Fatigue
Arachnoiditis
Alcoholism
ALS
Alzheimer's
Aplastic Anaemia
Arthritis
Asthma
Antibiotics & Asthma
Asthma & vaccines
Autism
Auto-immune
Back & Neck Pain
Bad breath
Barlow's disease
Bedsores
Bipolar
Bird Flu
Birth defects
Brittle Bone disease
Black Death
Blood Pressure
Borderline Personality Disorder
Bowel disease
Bright's disease
BSE, CJD
Cancer
Cataracts
Cerebral palsy
Cerebral Palsy (vaccine)
Chickenpox
Vaccine
Articles
Quotes

Cholera
Colds and Flu
Constipation
Crohn's
CFS/ME/CFIDS
Cot death, crib-death, SIDS
Croup
Cystic fibrosis
Death (fear of)
Dehydration
Dental Caries
Depression
Down's syndrome
Diabetes
Drug induced diabetes
DIABETES & VACCINES
Articles
Citations
Quotes
Diphtheria
Quotes
Diphtheria vaccine
Dissociative Identity Disorder (DID)
Down's syndrome
Dyslexia
Ear infections
Ebola
e coli
Eczma/psoriasis
Elecrostress
Emphysema
Emotional trauma
Encephalitis
Endometriosis
Epilepsy
Epilepsy caused by vaccines
Eye
False Memory Syndrome
Fetal Anticonvulsant Syndrome (FACS)
Fever
Flu
Fibromyalgia
Fibroids
Flesh-eating bacteria/Necrotising fasciitis
Four Corners lung disease
Gallstones
Gambling
Gastroesophageal Reflux Disease (GERD)
Gulf War Syndrome
Gum Disease
Graves Disease
Guillain-Barre
Head, Back & Neck Pain
Heart disease
Articles
Bypass
Herbs
Cayenne Pepper
Chelation therapy
Diet
McDougall, John, M.D.
High blood pressure
Nutritional Medicine
Nutrition
Hepatitis
Hepatitis quotes
Hepatitis B vaccine
Hepatitis A
Hepatitis C
Hepatitis tests
Vitamin C for Viral hepatitis
Herpes
High blood pressure
Iatrogenic
Impotence
Infertility
Insomnia
Irritable bowel syndrome (IBS)
Kidney
Kuru
Legionaires Disease
Leprosy
Leukemia
Drug induced Leukemia
Cancer and vaccines
Vaccination: Leukemia & lymphoma
Vitamin K injection and leukemia
Lice (head)
Loneliness

Lou Gehrig's disease
Lyme Disease
Lupus
Macular degeneration
Mad cow
Mycoplasma
Macrophagic myofasciitis (MMF)
Malaria
ME
Measles
Articles
Quotes
Quote banners
Beneficial effects of measles
Citations
Measles in Africa quotes
Measles death

s quotes


Measles deaths 1901 to vaccination stats
Measles risk

hyped


Meningitis
Articles
Quotes & prevention
Vaccination
Meningitis C vaccine damage (UK)
Media--meningitis despite vaccination
Vaccine induced meningitis
Vitamin C for meningitis
Drug Induced Meningitis (DIAM)
Antibiotics & Meningitis
Menopause
Mental Illness
Meniere's syndrome
Migraines
M

iscarriage


Moles and Warts
Motor neuron disease
Morgellons Disease
Multiple Personality Disorder
Mumps
Quotes
Beneficial effects of mumps
Mumps and Vitamin C
Munchausen's Syndrome by Proxy
MRSA
MS
Multiple Chemical Sensitivity

(MCS)


Muscular dystrophy
Necrotising fasciitis/Flesh-eating bacteria
Obesity
Old Age
Otitis Media
Osteoporosis
Pain
Pancreatitis
Paranoid schizophrenia.
Parkinson's
Pellagra
Pernicious Anemia
Pertussis (Whooping Cough)
Physical Trauma
Pink disease


P

neumocystis carinii pneumonia Puerperal Fever
Pneumonia
Positive effect of childhood diseases
Post Traumatic Stress Disorder (PTSD)
Post Tubal Syndrome (PTS)
Polio
Post polio syndrome
Psychopathy
Psychosomatic disease
Psoriasis
PTSD
Puerperal Fever
Rabies
Radiation poisoning


R

espitory syncytial virus (RSV)SADS
Rubella
Salmonella
SARS
Scarlet fever
Schizophrenia
Scurvy
Seizures
Sepsis
Sexual Problems, Impotence
Shaken Baby Syndrome
Dr Waney Squier
Articles
Quotes
Media stories
Shingles
SIDS
Sinusitis
Slim disease
Smallpox


SMON

(Subacute Myelo-Optico-
SNAKE BITE
Spanish Flu
Spina Bifida
Spiritual Diseases
Subacute sclerosing panencephalitis (SSPE)
Sudden Cardiac Death
Suicide
Military suicides
Suicide and pharma drugs
Suicide music
Farmer suicides
FMD suicides
'Suicide' assassinations
Staphylococcus
Neuropathy

)


Stomach ulcer
Stroke
Suicide
Swine Fl

u 1976


Swine flu 2009
Syphilis


T

ardive dyskinesia
Teeth
Tetanus
Thrombosis
Tinnitus
Tonsillitis
Tourette Syndrome
Toxic Oil Syndrome
Traum

a (physical)


Trauma (emotional)
Tularemia
Tuberculosis
Tuberculosis from vaccination
Typhoid
Typhus
Ulcerative colitis


U

lcer (Stomach)
Violence
Warts
West Nile Virus
Whooping Cough (Pertussis)
Quotes
Banners
Articles
Vaccines
Zika virus

Animal:
BSE & CJD
Kennel Cough
Foot and mouth (FMD)
Rabies
Scrapie
Canine parvovirus
Canine Distemper
Leptospirosis
Schmallenberg virus
Swine Flu

Man made
(see: Drug-Induced Diseases The Virus hunters)

AIDS
Alzheimer's
Autism
Bird Flu
BSE, CJD
Cot death, crib-death, SIDS
Ebola
Legionaires Disease
Puerperal Fever
Polio
SMON (Subacute Myelo-Optico-Neuropathy)
Shaken Baby Syndrome
Spanish Flu
Toxic Oil Syndrome

Nutrient deficiency
Pellagra
The Skin Healing Properties of Black Seed Oil
"Most physicians are wrong in their understanding of most diseases, most of the time."----Cantwell's law
It has been estimated that 20% of illnesses, including mental illnesses, are due to contact with a destructive person. POSSIBLE PROBLEM PRODUCERS By Stephanie Relfe B.Sc.
LUPUS [SLE] AND THE DEBUNKING OF AUTOIMMUNITY AS A CAUSATIVE FACTOR IN DEGENERATIVE DISEASES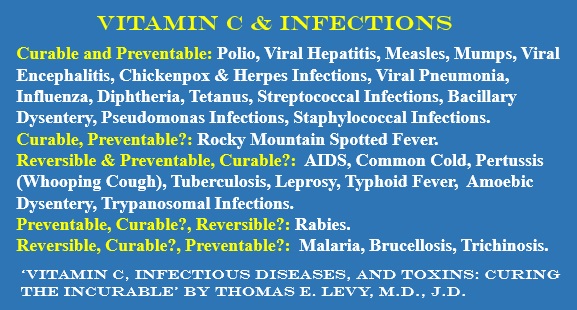 [2002] Vitamin C, Infectious Diseases, and Toxins: Curing the Incurable by Thomas E. Levy, M.D., J.D.